Find out how switching from carbon fiber prepreg to resin transfer molding (RTM) can save 67% per composite fuselage
PROBLEM – Fabricate a 1/2 scale UAV fuselage at a significantly lower cost with highly similar weight, performance, and quality
OPPORTUNITY – Switch to lower cost materials, out-of-autoclave cure, while deploying novel manufacturing technology
SOLUTION – Dry carbon fiber socks, liquid epoxy resin, a Smart Tool that acts as a bladder during cure, and RTM were used to create a high-quality, performance equivalent composite fuselage at a savings of 67%
CARBON FIBER PREPREG PROCESS
The previous process built the fuselage in two halves that were secondarily bonded together after cure. Workers laboriously laid carbon fiber prepreg into each mold half.
Next, each half was separately bagged and placed into an autoclave for cure. After cure, the parts were removed from their molds, trimmed and the separate sides were joined together and finished.
RESIN TRANSFER MOLDING PROCESS
In contrast, the Hawthorn Composites resin transfer molding process allows for the composite fuselage to be made in one piece. To start, the rigid Smart Tool that acts as a bladder and RTM mold are prepped. Next dry carbon fiber braided socks are pulled over the preform and secured with flash breaker tape.
The laid up Smart Tool is placed into an RTM mold, a vacuum bag is pulled through the Smart Tool and secured to the ends of the RTM mold. Next, end plates are put on the RTM mold that seal with the vacuum bag for pressurization.

The assembly is then placed in an oven and the cure profile is ran. At the appropriate temperature, epoxy resin is infused into the cure mold between the Smart Tool and the inside mold cavity.
After infusion is complete, the elastic Smart Tool is inflated with 90 psi of pressure to force out air and excess resin from the composite fuselage during cure. Once the cure is complete and the temperature is ramping down, but is still above the transition temperature of the Smart Tool, the mold is opened and the Smart Tool is low-force extracted from the cured composite fuselage.
After extraction, the still elastic Smart Tool is then placed into a pre-heated form mold, a vacuum bag is pulled through the Smart Tool and sealed to the ends of the form mold, and vacuum is pulled to reset the geometry, Once cool, the Smart Tool can begin the next production cycle.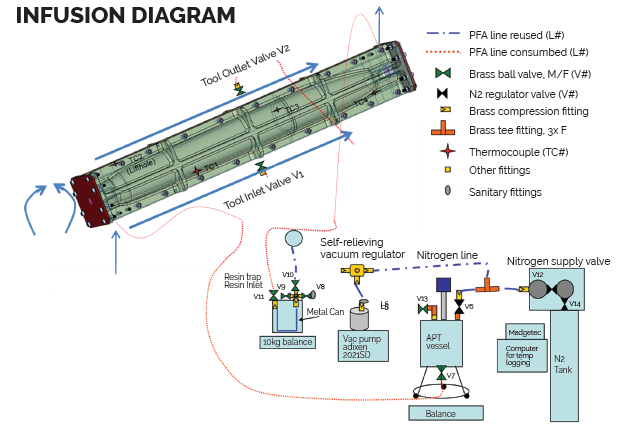 RESULTS
The Hawthorn Composite's use of lower cost dry carbon fiber braided socks, liquid epoxy, a Smart Tool that acts a bladder, an RTM mold, and process that can perform like an autoclave resulted in a high-quality, performance equivalent composite fuselage at a 67% savings to the baseline process.
Hawthorn Composites delivers autoclave like results from oven cured composites by deploying novel manufacturing methods. We also engineer composites that deliver significantly lower cost due to material and process selections. Simply put, we make composites parts designed & made less expensively.
Born from the composite tooling solutions provider Smart Tooling, Hawthorn Composites has produced composite parts such as wings for commercial drones, fuselages for ordinance, and inlet ducts for UAVs.
Get the Hawthorn advantage by converting from traditional composite manufacturing methods like prepreg & autoclave cures to overbraid dry fiber & resin transfer molding (RTM), resulting in significantly lower labor and raw material costs.
Download this case study or browse our of library of other case studies and applications. For more information on how Hawthorn Composites delivers high-value composites, click here.